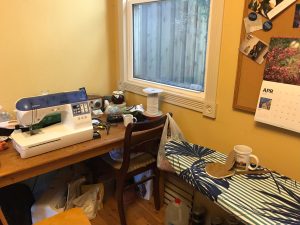 More than two years ago (around the Ides of March) and exactly like everyone else in the US, I was at home sheltering-in-place, dealing with both sudden too-much-time and the anxiety of a rapidly-spreading pandemic. My own way of dealing was to start sewing.

Remember those far-off days when getting N95 masks was a near impossibility, hand sanitizer and toilet paper were impossible to find, and it felt a little like the beginning of a long, uncertain siege? When things are uncertain or scary, I need to do something, and I settled on sewing masks. At the time I was hearing from medical professionals about the lack of PPE–not just masks, but scrub hats and scrub bags (for putting your scrubs in to take to and from work). I asked what was the best pattern… and was besieged with information. And yards of fabric (some of it was autoclaveable Halyard 600 medical fabric sent by a physician friend, but a lot of it was just delightful cotton prints). I started a Facebook group for people who wanted to sew masks etc. ("Coronavirus Hand-Sewist* Mask Makers"), and it took on its own life: patterns for masks, advice, commiseration, and of course, memes about sewing.
Many of my early efforts were bespoke (those Halyard 600 masks, for example), but other than that I was not systematic: rather I was sort of throwing my masks into the universe–making bunches for friends, sending them to the Navajo Nation, calling up hospitals in San Francisco and checking with local friends who are medical professionals. I would drop off a batch of masks, make another batch, then look for somewhere else to donate them. Then, around May, I learned of a local group, It Takes a Village, which was doing a huge organizational job of getting material donations, finding cutters and sewers to create masks, and finding organizations where masks were needed. Each week they provided a "kit" of materials for 30 masks, and each week I would drop off the finished kit and pick up a new one. I continued to do bespoke masks for friends and some for other organizations, but with ITAV doing the heavy lifting of finding places that needed the masks, I sort of started to dedicate my sewing time to them.
At first, of course, there were supply-chain issues (1/8″ elastic and fusible interfacing were, for a while, utterly impossible to find. Online orders sometimes took months to arrive) which created opportunities for invention–no elastic? Make tee-shirt yarn! Or cut up bandages! Use ribbon!) Inevitably, all the elastic and interfacing I'd ordered–more than once, as I assumed the original orders had gone aground somewhere– arrived, and I was drowning in the stuff. I'm sure it will all come in handy Some Day.
My poor sewing machine has never had such a workout; it turned up its toes more than once–I got to be friends with the sewing machine repair guy, who was, let me tell you, an essential worker. I learned to do field repairs (I had heretofore been one of those users who read enough of the manual to be able to use the machine and no more) and to change my needle regularly. I somehow made many meals and loaves of bread, despite the fact that a corner of kitchen had been wholly given over to the sewing machine and ironing board and stacks of fabric. The vacuum cleaner and my late dog discovered many dropped pins and snarls of thread. The mask corner has been a fixture. And while I haven't done much of my former hand-work (mostly beading), I have never been at a loss for something to do with my evenings.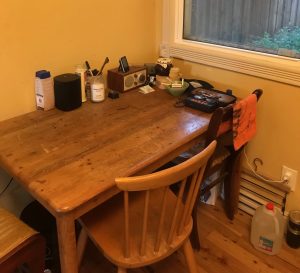 It is now mid-April, 2022, and on Monday morning I dropped off my last kit. I estimate that I've sewn about 2400 masks for ITAV, and another 800 or so for other recipients. I feel a little at loose ends–what will I do with my time? (Beading. Writing. Baking. It's not like I lacked for things to do with my time pre-COVID). And for the first time in 2+ years I can see the surface of my kitchen table (okay, there's still junk there, but it is unrelated to sewing). Whole new vistas of time and doing lie before me. As long as we continue to have a minimal handle on COVID, anyway. Hoping for the best, I have put my sewing machine away. But it stands ready if we get complacent, or Mother Nature gets creative, and it is needed again.
__________
*I had never heard the term "sewist" before COVID, but it makes sense. Seamstress is old fashioned and gender-locked, and the alternative, sewer… well, as Inigo Montoya would say, "I don't think it means what you think it means."