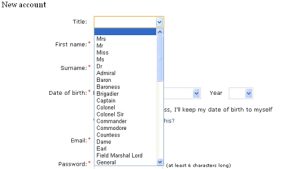 I was raised informally; the teachers at my (progressive) grade school were addressed by there first names; I called my parents' friends by the first names as well–no Aunt or Uncle unless they insisted (only one person–my father's accountant's wife–insisted). This doesn't mean I didn't treat them respectfully, but it does mean that I grew up expecting a certain amount of reciprocal respect. When we moved and I went to a more traditional school, I called the teachers Miss/Mrs/Mr. I did ask once why we didn't call all the female teachers Ms, and was told without irony it was because they didn't have that many young unmarried women on staff. Okay then.

I believe people should be called what they want to be called (within reason: if you want to be styled Grand Panjandrum, okay, but don't expect me to do it without an eyeroll). And until invited to do otherwise I still call doctors "Doctor," regardless of whether they are MDs, DDS, PhDs, or any of the other long list of doctorate degrees. My father-in-law had a doctorate in Education, and while he didn't do it often, he occasionally would insist on being "Doctor Caccavo." Because he By God worked for that degree, and the prerequisite degrees, all while supporting a family.

For what it's worth, in the UK, up until very recently, some medical doctors were Dr. and some were Miss or Mrs. or Mr.  Allow me to put my Medical History Geek Glasses on: in the Middle Ages there were three classes of medical practitioners: doctors, surgeons, and apothecaries. Doctors were the ones who had studied medicine; they'd gone to school and learned all the theories. They did not lay hands upon the patient except in the most basic way–that was for assistants, or for surgeons. Surgeons were tradesmen: they used their hands, they apprenticed, learned the skills required, and practiced (some cut hair and pulled teeth as well; Sweeney Todd may have been a Demon barber, but he was also expected to be a dentist as well). Even up to the beginning of the 21st century, aspiring surgeons were plain Mister or Ms. until they finished medical school–then were briefly Doctors, until they finished surgical training and passed their exams, at which point they returned to Mister/Ms. again.
Don't get your knickers in a twist about doctor.  Continue reading "What's in a Title?"…