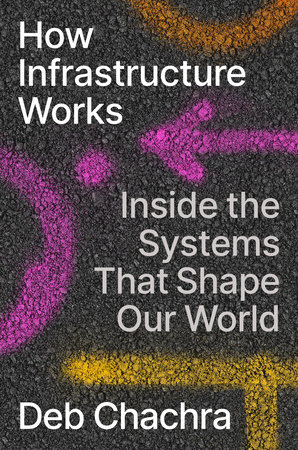 I just finished a wonderful book that explained what it would take for everyone on Earth to live the good life. It was all about infrastructure.
Don't stop reading! Infrastructure is far from boring, I promise you, especially when the person explaining it to you is Deb Chachra, an engineering professor who both understands how things work and how to explain them. (I'll just note right here that she has read some science fiction and philosophy along the way.)
The book is called How Infrastructure Works: Inside the Systems that Shape Our World. And no, it's not a treatise on pipes or wiring or highway construction. It's an overview of how all those things come together to make modern life possible.
Even if you've thought a lot about infrastructure — most of us only think about it when ours fails — this book will give you some deep insights into just how important it is and, even more importantly, how infrastructure design sets in place all our lives.
One of the first things I got from the book is that modern infrastructure is what makes our lives comfortable and possible in the United States and other highly developed countries. We have power at the flick of a switch, water when we turn on a tap, phone service (land lines even still exist, though most of us are using mobile phones these days). The wastewater gets taken away and treated.
Further, we have roads that go everywhere. In some places, we also have other transit options besides cars.
Most of us have access to good food even if we don't live near where food is grown. That's due to shipping systems, which also bring us other things we need.
That's the point: all these things make modern life possible. We don't have to dig our own wells or fetch water from the nearest creek (if there is one). We don't have to cut up logs and feed them into a wood burning stove to cook and keep our homes warm. We can be in touch with people all around the world without leaving home or even waiting for the mail (and of course, mail is an infrastructure).
A couple of hundred years ago, people didn't have most of these things. There were roads and there were shops and some supply systems, but they were not nearly as convenient as they are today.
Despite the fantasy of the "freedom" of living off the grid, the truth is that living in a system with modern infrastructure gives people a great deal more freedom to do something beyond just survival. Continue reading "The Joys of Infrastructure"…