What an age we live in!
A spectacular trio of merging galaxies in the constellation Boötes takes center stage in this image from the NASA/ESA Hubble Space Telescope. These three galaxies are set on a collision course and will eventually merge into a single larger galaxy, distorting one another's spiral structure through mutual gravitational interaction in the process. An unrelated foreground galaxy appears to float serenely near this scene, and the smudged shapes of much more distant galaxies are visible in the background. Image Credit: ESA/Hubble & NASA, M. Sun. Article here.
On March 1, 2023, NASA's Juno spacecraft flew by Jupiter's moon Io, coming within 51,500 km (32,030 miles) of the innermost and third-largest of the four Galilean moons. The stunning new images provide the best and closest view of the most volcanic moon in our Solar System since the New Horizons mission flew past Io and the Jupiter system in 2006 on its way to Pluto.
Cleary, Io still looks like a pizza. The mottled and colorful surface comes from the volcanic activity, with hundreds of vents and calderas on the surface that create a variety of features. Volcanic plumes and lava flows across the surface show up in all sorts of colors, from red and yellow to orange and black. Some of the lava "rivers" stretch for hundreds of kilometers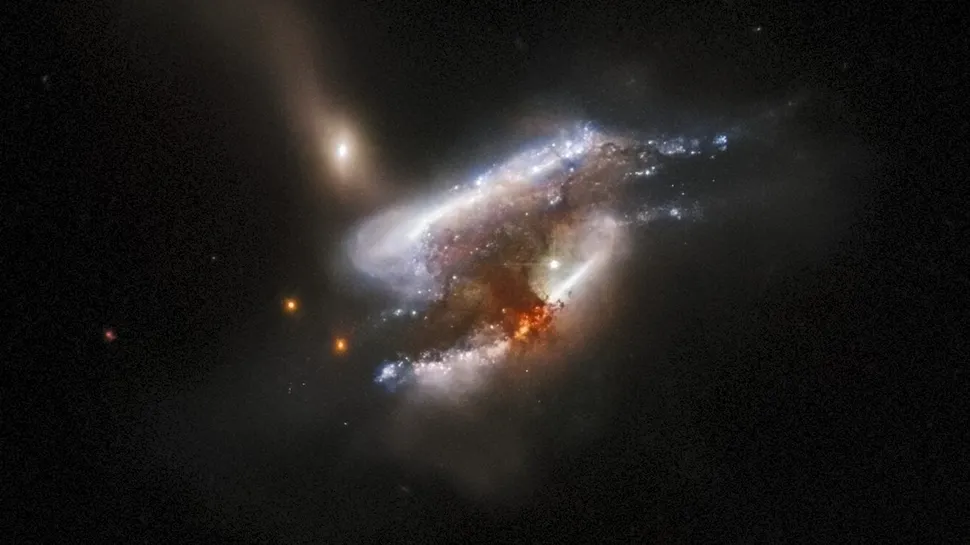 Glimpsed only occasionally at the hearts of massive clusters of galaxies, ultramassive black holes are some of the largest and most elusive objects in the universe. These black hole behemoths have masses exceeding that of 10 billion suns, making them far more monstrous than even the supermassive black holes found at the centers of galaxies like the Milky Way, and their tremendous size has long perplexed astronomers.
Now, researchers studying a rare galaxy merger with three supermassive black holes at its center may have finally discovered the origins of these cosmic monsters.
Using a high-resolution cosmological simulation called ASTRID, the team modeled the evolution of the universe as it appeared about 11 billion years ago. In the simulation, the team witnessed the birth of an ultramassive black hole following the merger of the three galaxies. Each of these galaxies contained its own quasar, a supermassive black hole that feeds on gas and powers massive outbursts of radiation that can outshine all the stars in their host galaxies combined.