November 1: Happy November! It's @NaNoWriMo time! Will you join this year? NaNoWriMo is a yearly event that challenges participants to write a novel in a single month. The #writingcommunity spirit, online tools,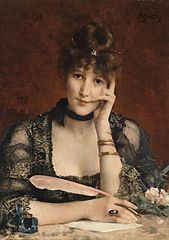 and general cheering one another on can be awesome. But it's not for everyone.
Here's what I'll be doing for NaNoWriMo: Cheering on my friends. I'll be finishing up revisions on the next Darkover novel, Arilinn. Revising is a very different process from drafting. I find that drafting goes better when I do it quickly, so I don't get caught in second-guessing myself or editing as I write. Both are recipes for disaster and paralysis. Revising, on the other hand, does not reliably produce any measurable result in terms of pages or words. I dive into it and call it quits every day when my brain won't function any longer.
November 2: Happy @NaNoWriMo month! Whether you participate or not, this is a great time to review your writing goals. If finishing a novel is too much, how about a single chapter? Or a short story? While it can be helpful to set ambitious goals, for many it's overwhelming. We fare better with short, manageable goals that allow us to succeed, sentence by sentence, word by word. What are YOUR goals for this month?
November 3: Happy @NaNoWriMo! Candles, music, hot drinks, snacks, a purring cat on your lap… What helps make the words flow for you?
I like soft instrumental music, an occasional spearmint candy, and lots of kitty vibes!
November 5: Happy @NaNoWriMo! Is it possible to write a novel in only 30 days? What do you think?
Why stop at only one? Let's write a trilogy in 30 days?
Hell, no! I can barely manage a sentence in that time–but it's a perfect sentence!
Yes, if the voices in my head keep dictating to me.
November 10: It's time for a break! Rest is important – even during @NaNoWriMo. Writing a novel in 30 days is pretty intense. Knowing when and how much to rest is tricky. Are you a fan of rest or do you find it difficult to switch off?
November 12: Supporting characters can provide comic relief when things get heavy. Do you have a favorite, one just begging for their own story What would a writing session look like if some of your supporting characters were keeping you company?
November 13: Doing something as demanding as @NaNoWriMo can teach you things you didn't know about yourself. Tackling a novel, regardless of time, teaches me humility and patience. And that I have a wacky sense of humor. Does this surprise you? What are you learning about yourself this month?
November 15: During a project as big as @NaNoWriMo, it's normal to feel tired, to doubt yourself or run low on creativity. So it's good to have a few go-to accounts that lift you up, brighten your day or remind you why you're doing what you're doing. What nourishes you during those moments? What keeps you inspired?
November 26: @NaNoWriMo pals: Are you old school or ultra-modern? Whether it's keeping track of your ideas, staying on schedule or actually putting words on the page – do you prefer pen and paper, your trusty typewriter, color-coded post-its, a giant whiteboard, clever apps… or something else? Ask your readers: are you traditional or high-tech?
For organization, I use a writing paper schedule and a spiral notebook for each novel. For writing, I mostly use Word (or Google Docs), but if I'm stuck, I write my way through with that handy notebook.
What about you?
November 27: Into the home stretch of @NaNoWriMo, there's a good chance you'll run low on energy at some point this month. When that happens, do you take a break or push through? What restores your energy and momentum?
November 30: On the last day of @NaNoWriMo, you may need a little extra help to get across the finish line. Feel free to be honest about that and ask for #encouragement.
Here's some from me: You've done an awesome job, whether you finished a novel or not. Your words are precious, so keep writing!