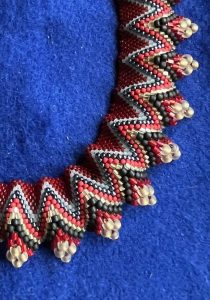 I don't think of myself as a crafter, but I do do a lot of craft-like things. Maybe I should rethink?
I like knowing how to do things, even if I don't do them brilliantly. I like to sew (big project sewing–mending and quotidian stitchery not so much). I taught myself to knit, and have knit some stuff, but not much–as with sewing, I tend to do a big knitting project that is almost certainly out of my league, and eventually finish it.
And then there was Klutz. I worked at Klutz Press for three years in the production department. One of the things most Klutzniks did routinely was to test instructions. So I learned to make tiny Fimo beads, and to do quilling (it's curled paper art), and make Star Wars-themed paper planes. And I made things with beads. So. Many. Beads. I wound up organizing the massive bead stash (by size, by style, by finish), and when Klutz's California offices closed, I was offered the opportunity to take any and all beads when I left.
I was good. I was even thoughtful. I did not just take all the beads (there were a lot of beads–in order to test the beads, both for compliance with US regulations on materials for kids, and for working with projects and designs–we had to get beads by the ounce, and an ounce is a lot of beads). I chose beads I liked, and I mostly chose the really small beads: 11/0s, Delicas, and 15/0s (okay, I took some 8/0s and 6/0s, t0o. I'm not a saint). In the years since I left Klutz I've become a fairly competent bead weaver.
I bead at night, while we're watching after-dinner TV. I don't string beads, or work with wire (I know some amazing bead jewelers who do both, or either); what I do is the intricate, fiddly stitching of beads in a pattern. Bead weaving. The necklace in the photo above is done with the flat Cellini stitch; it winds up looking complex, but really, the hardest part of finishing the flat Cellini necklace is remembering which bead I'm supposed to be picking up when. I've made climate change necklaces (bands of different colors for different temperatures, over a 100 year period… pretty and sobering) and Russian leaf earrings, and, and, and… It keeps me from fidgeting while I track plot and dialogue.
So what do I do with the pieces I make? I've sold some pieces here and there–mostly those commissioned by friends. Then, last year, after a friend had a good experience with entering her artwork in the World Fantasy Convention, she persuaded me to try entering my beadwork in this year's WFC Art Show.
Spoiler: I got into the show. To my surprise and gratification, I sold half of the work I showed. More than that, I got the sense that this is something I'm good at, and something that has the potential to give joy to others. In the words of Ruth Gordon when she was given an Academy Award at age 73, "I can't tell you how encouragin' a thing like this is."