[Editor's Note: This is a guest post from the British writer Jacey Bedford, whose latest book, The Amber Crown, came out January 11.]
By Jacey Bedford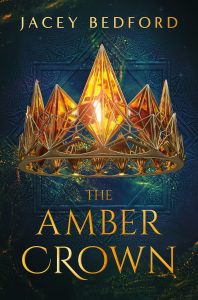 The king is dead, his queen is missing. On the amber coast, the usurper king is driving Zavonia to the brink of war. A dangerous magical power is rising up in Biela Miasto, and the only people who can set things right are a failed bodyguard, a Landstrider witch, and the assassin who set off the whole sorry chain of events.
I love stealing from history for my fantasy books. When I was researching for The Amber Crown, which has a Baltic setting, I found some fantastic nuggets from the pages of history that turned into inspiration. I offer two examples, one so gory and grim that it makes you wonder who thought it up in the first place, and whether they were entirely sane. The other is so fantastic that my critique group thought I'd made it up, but I just transplanted it straight from history.
Grim enough to be Grimdark
Let's get the grim one out of the way first – execution by sawing. I don't put this on the page in all its gory detail, but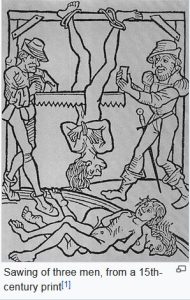 one character thinks it might be his fate, another reflects on it after seeing it take place. We tend to know about hanging, drawing and quartering. The drawing by the way was being drawn to the place of execution on a hurdle, not having the guts drawn out of the belly while still alive. So the victim was drawn through the streets, hanged and then his body cut into quarters. So really it should be drawn, hanged and quartered, in that order.
Accounts differ, but sawing, with a two-handed saw, could be across the body, or lengthways down the body starting at either end. The medieval illustration in Wikipedia shows that they tied the victim upside down on a frame, legs apart, and then began to saw them in half, lengthways, starting at the crotch. The theory was that because they were upside down the blood drained towards the head and so they didn't bleed out, or pass out, quickly, but stayed alive and screaming while being butchered like an ox. It's hideous, so I reserved it for traitors and king killers. In The Amber Crown it's a character we haven't met who suffers this fate, so it's not as personal as if it's a character we've already become invested in, though, sadly, it is an innocent man. Continue reading "Sorrow and Joy in History"…