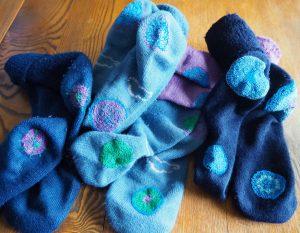 A while back I posted about mending—darning socks, mostly. I've kept at it. I sprang for a darning disk (I recommend it), and I've now mended all of my favorite socks that had thin spots, with the round technique I talked about in the comments of my previous post. I call them my mendalas. I think I love these socks even more now.
I also decorated a patch with a Sashiko-style scene, although true Sashiko is all done in white thread.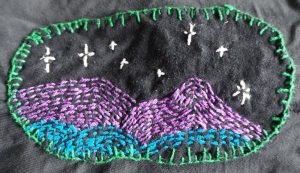 I like color, so I did my own thing with it. This patch is on the inseam of a pair of pants, so this is probably the only way you'll ever see it.
Less decorative but more practical, I've mended my sheepskin slippers, I think for the third time. I wear them around the house all winter, and the seam around the sole tends to blow out. This time I used the heavier cotton embroidery thread that I've been darning with. We'll see if they hold up better.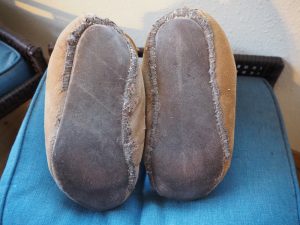 I intend to keep mending these slippers until they fall apart completely, as I don't want to buy more sheepskin. It's luxurious, but since I'm doing my best to tread lightly, I don't want to use animal skin products if I can avoid it.
I've got heavy cotton and cotton batting and big ideas about making my own slippers that are washable. I just had a commercial pair fall apart in the dryer, and since they weren't that comfortable anyway, and had plastic soles, I tossed them. It's only worth mending clothes that one loves.