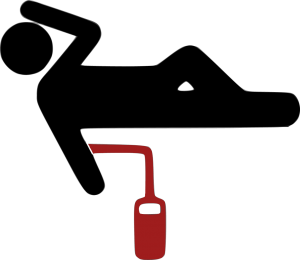 I don't remember why I first donated blood–it may have been part of a blood drive when I was working at Harvard (doesn't that sound glamorous? It wasn't–I was part of the clerical staff at an institution that eats clerical staff on toast points with sherry before dinner). I do remember that the drive was held in Memorial Hall, and it was drafty and cold. The technology–this was the 1970s–was all rubber tubing and rather punitive looking needles. Afterward they gave us canned orange juice (remember canned orange juice? It is a unique flavor not to be confused with actual orange juice) and cheese crackers, and stickers that allowed all of us public spirited folks to recognize each other on campus–at least until the end of the day, when the adhesive failed and the stickers fell off.
Even at the time I felt like this was a remarkably simple way to go about helping my fellow humans. So in Boston, and in New York, and in San Francisco, I have been a blood donor. After 9/11 I went down to give blood only to be turned away–for the first time in ever, they had more donors than recipients (for much the same reason that hospitals that expected a massive influx of patients didn't get one, because in so many cases victims simply didn't make it out to be treated). When we moved to San Francisco I didn't know where to sign up–until a bloodmobile set up shop in my neighborhood. I would have donated right then, but my daughter–who raises needle-abhorrence to an art form–was with me, and threatened to swoon at the thought.
Eventually I got hooked up with Blood Centers of the Pacific, and became a regular donor. About five years after we moved out here I was asked if I'd be willing to donate plasma rather than whole blood. With a spirit of adventure I said sure, and was introduced to a whole new level of technology. Apheresis–the process whereby blood is extracted and blood products–platelets and plasma–are spun out before the blood is returned to you–is… well, I think it's cool. But then, I love the fact that there is an industry devoted to everything from making little one-use stabby tools that allow the techs to draw one drop of blood for testing beforehand, to one-use cleaning swabs to ensure that your elbow is squeaky clean before it is punctured, to the machines that permit the blood products to be extracted, is really really cool. Apheresis takes between 1-2 hours, during which time I was wrapped in warm blankets, fussed over, and given movies to watch. Sort of like a spa day with less fussing about my toenails and more cooing over what a Virtuous Person was was.
Sadly, after about five years they discovered that women who have been pregnant tend to have a factor in their blood which, in plasma or platelets, some recipients react to very badly. No one wants that. So it was back to regular blood donation.
It used to be that my blood pressure was low enough that I'd run up and down the block before I came in, because too-low blood pressure would disqualify me. Or sometimes I didn't have a sufficient hemoglobin count. I always felt a little ashamed on days when I couldn't donate, but lately all systems have been go. And even during COVID, the blood center is somewhere where I'm reasonably certain they are taking All the Precautions–and then some.
The snacks are never very good–except for Oreos, which are a constant in a wicked world–and the juice is dispensed by a machine. Mostly I have water or tea (the coffee does not bear mentioning). But everyone at the blood center, from the woman at the front desk who checks you in, to the Historian who runs you through the intake procedures, to the phlebotomy tech who does the needle stick and sets everything up to draw the blood in a businesslike manner–appears to like their jobs and feel good about what they're doing, and so do the visitors.
So I'm down a pint today. And in eight weeks I'll go back again, because honest to God, it is quick, close to painless, and such a great way to be part of the community in which you live.