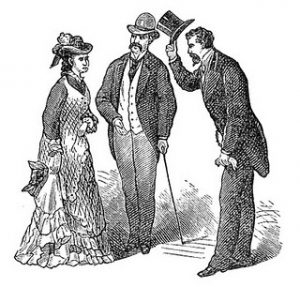 Manners are important. I'm not talking about not chewing with your mouth open (though please, don't). I'm talking about that old stalwart you heard when you were a kid: Don't be a Brat. Don't talk back.
Really: someone on Amazon doesn't like your book? Pound a pillow, burn her in effigy, but resist the impulse to get on line and explain in detail why You are Right and She is Wrong, Wrong, Wrong. It's a losing game, I promise you.  The best you can do is say "I'm really sorry it didn't work for you."  Silence is even better.
Don't Talk Back to Editors. You'd think this was a no-brainer, but sadly: no.
Case in point. An acquaintance of mine, years and years ago, wrote a novel.  Friend, who liked my mother and valued her literary judgment, sent her a copy of the manuscript and asked if she knew any editor who might be willing to look at the book.  So far, so good.  This is how careers get started.
My mother, ever helpful, read the manuscript, was dubious, but sent it on to one of her best friends who was, in fact, an editor at a Major Metropolitan Publishing House.  And the friend, because she loved my mother, read the book. And sent back an eight page letter to my friend, explaining why the book was not commercially viable, and giving detailed feedback about what problems needed to be fixed in order to render the thing more commercial and, therefore, more publishable.
Think about this: this editor took the time to read the manuscript and give pages and pages of useful feedback to the author on a book that she had no interest in publishing.  She did it because she and my mother were friends.  And what did my friend do?
Fired off a letter explaining the ways in which the editor was Wrong Wrong Wrong.
Now, even if the editor had been wrong (and, at least in my opinion, she was not), what my friend should have done was say "Thank you so much for your time and professional expertise, for which I did not pay a dime. I will take your cogent suggestions to heart, and hope to submit the revised novel to you at a later time." After that, she could have gone home, pounded that pillow, burnt the effigies, whatever made her feel better.  But writing a tantrum-like letter to the editor was dumb in a Big Dumb Way.  Not only did she burn that particular bridge; she burnt a lot of bridges with one fell swoop.  Cause editors talk to each other.  They go out to lunch, they call each other, they email, and you can bet that if my friend submitted a book to someone who mentioned her name to my mother's friend the editor, the feedback would not have been stellar.
This doesn't mean you can't advocate for your work.  If someone says "we want to publish your book, but we really want the protagonist to be a lizard," it's perfectly reasonable to say "You know, that's not the book I wanted to write, and while I appreciate your viewpoint, that's a dealbreaker for me."  But don't tell an editor that your therapist, your writing workshop, or the guy who makes your latte at Starbucks think your book is a flawless work of genius as it is.  It's the editor who's going to have to persuade the company to spend money buying the book, and publishing and advertising the book.  Anything you can do to make yourself look like someone she wants to work with is a good thing.
Being a brat, obviously, is not.
_______
This was originally published at Book View Cafe.