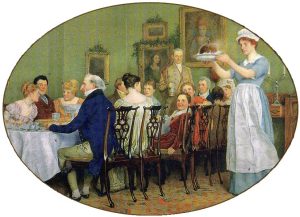 We have survived the holidays (they were actually lovely). But this year they required (administrative) flexibility of the sort generally associated with yogis and exotic dancers. Welcome to life in the time of COVID, and do let me know if any of this sounds familiar.
Every year–until 2020–we have traded off Christmas holiday dinner with my sister-in-law and her family in Sebastop0l. This always involves a certain amount of negotiation in terms of what will be served and who will bring what. As the dietary requirements of the family are, um, complex (various allergies, food sensitivities, and at least one part-time vegan in the mix) this is really where the negotiation part comes in. But my sister-in-law and I are old hands at this, and dinner–at whichever household plays host–is always festive and delicious.
And then we have 2021, the year in which we had Schroedinger's Dinner. Up until Christmas Eve I wasn't sure where we were feasting (and who would be feasting).  Part of this is my fault: of the various people in my immediate family, I am the one who goes to work four days a week, riding BART. I'm a risk factor.  So I got a COVID test on Monday (negative! YAY!). And I got another test on Friday, Christmas Eve (also negative! YAY!). Meanwhile, my younger daughter waited in LA until Tuesday, got a test, then drove up to join us (test: negative. YAY!). Older daughter and husband had also been tested (Negative. YAY!), and were sheltering-in-place. My husband got a test on Thursday (negative. YAY!) Meanwhile, testing and negative results were being reported by our family up north. By Christmas Eve morning I was pretty sure that we were all well enough, and we would be going up to my sister-in-law's for dinner. YAY!
Until that decision was made, it was unclear whether I was bringing food to contribute to a feast for nine, or staging a holiday dinner for five at home.
Because I like to plan a big meal (I was trained in such things by my father, who organized dinners as if they were the invasion of Normandy Beach) this made me a little crazy. Waiting until I knew for certain–on the morning of Christmas Eve–in order to shop for Christmas dinner (in the event that the meal was to be at my house) felt… dangerous. I imagined a gala Christmas dinner of hot dogs, Saltines, and canned pineapple.
Why does this matter? Surely the dinner should be more about who's there than what the food is? I had some time to fret about this, and realized that, for me, it's a combination of love and ego. The love part is pretty obvious: I cook to show my love (and because I really enjoy cooking). The ego? Pretty obvious too: if I'm going to make a big, fussy dinner, I want it to… well, impress. At least to make it clear I did my best.
And here I was planning a potential Gala Dinner with one hand metaphorically tied behind me. Feh. Also, I was at work Tuesday through Thursday, so shopping was going to be difficult. And with every passing moment I could see the shelves at the market emptying of the ingredients of a festive meal. So on Wednesday morning I made a decision: I would get the making of Holiday dinner and have it on hand so that I could move swiftly regardless of where it was and who was eating it. I mean, sooner or later you're going to need to make another meal, right?
Which returns me to Friday morning, Christmas Eve, when it was declared that we would indeed be going to my sister-in-law's for dinner. This meant that I had a whole ham and the makings for various go-withs and no gala dinner to serve. With my kids arriving in time for Christmas Eve dinner (which has never been a thing in my family) I loaded the ham into the oven. By the time Older Daughter and Son-in-Law arrived, the house smelled delicious. Meanwhile, my friend Ellen came by to drop off Christmas presents, and it seemed silly not to asj her to stay, and suddenly we had an impromptu Christmas Eve dinner party, and it was terrific.
I am hoping for many, many reasons that next year the specter of COVID will be in the rear-view mirror. However, I may keep the Christmas Eve dinner idea alive. It seems to have been an unexpected gift, and you don't throw those away.