I took a class last month through East Bay Regional Parks and learned how to use hiking poles effectively. The class impressed me so much that I put my old hiking poles (which weren't very good) out on the curb, where they were quickly snatched up. My sweetheart got me some much better ones for my birthday.
That gave us an excuse to go hiking, but since we had lots of other things to do, we didn't want to go far. So we went hiking in the city of Oakland. Our first outing was to Dimond Park (which is pronounced as if it was spelled "diamond") to hike along Sausal Creek.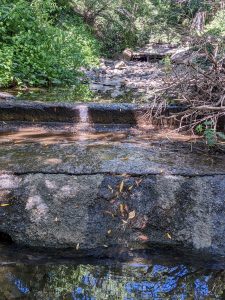 The trail has not been as well-maintained as it should have been and it was difficult in spots. The poles made a huge difference.
We took another hike along the Martin Luther King Jr. Regional Shoreline, which is along San Francisco Bay near the Oakland Airport. Since it was a flat trail around the bay and wetlands, I didn't need the poles. Although it is possible to use poles to walk faster and give yourself more exercise, I opted to be lazy and just stroll along. We saw some official art in one area that is set up so you can sit and look at things: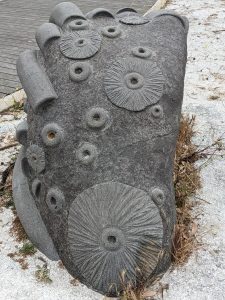 We also saw a sculpture made of driftwood that someone had created.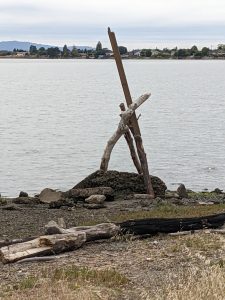 On my birthday, we decided to actually leave Oakland: We went to the waterfront in Berkeley. At one point, sitting on a well-placed bench, we got a nice view of Mt. Tamalpais, known around here as Mt. Tam. It's across the Bay in Marin County.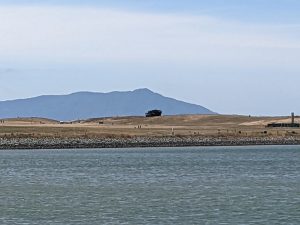 Before we got to that point, we walked on a trail through a large fenced off area where East Bay Regional Park is working to restore the native wetlands and meadows. Most of the trails we walked on out there were created by landfill: Berkeley dumped trash into the bay and wetlands around there until the 1960s. That was depressing, but the fact that efforts are being made to repair that damage was heartening.
We do have plans  next month for a camping trip a little farther from home. We're not going to backpack this trip, just camp and do some day hikes, but I expect I'll get to use my poles quite a bit.
But I love the fact that I can get out in nature easily even though I live right in the heart of a major urban area. Regular city parks are nice, but having something a little less manicured is good for everyone.
I mean when we were walking along the trails in Dimond Park, we had to dodge the poison oak!