Welcome back! If you missed the first part of this interview, you can find it here:  https://treehousewriters.com/wp53/2022/11/07/interview-amy-sterling-casil-ron-collins-michel-libling-part-one/
Now, on with the today's question…
Gillian
Gillian:
Such interesting answers! Thank you.
The different paths you all took to answer the first set of questions fascinates me. You all told stories, in quite different ways. Can you tell me something about the differences between the stories you weave into explanations and the stories you write for books? This is not an academic question – it's more about your personal approach than your theories about Tolkien's cauldron of story, for instance. My life is full of theory, and I'd rather it were full of story!
Ron:
I'm struck to ask the question: what qualifies a person to be called an academic?
Amy:
I think it varies from field to field but in literature, it would be "do you teach literature courses" and "do you publish academic writing in journals or texts."
Ron:
I ask because you were kind of playing around with that idea of who was an academic and who wasn't, and I'm thinking about my dad – who was a professor of Mechanical Engineering and a researcher. And then I started thinking about Gillian's question and focusing on what happens when academics start digging into our stuff. I don't think I have that experience. Commentary on my work has been through social review structures, meaning classic science fiction reviewers, as through direct reader feedback on web stores (Amazon and Kobo and…). I also get the occasional commentary on my own website or email from folks that range from nice to inquisitive.
So, I dunno. I don't really qualify to answer the question, maybe?
Regardless, all I know to do regarding the commentary my work has gotten – positive or negative – is to try not to pay much attention to it and move forward doing my own thing. That's easier said than done sometimes.
Amy:
It sure is, Ron – but it's really important, too. I am doing something with Medium that I think differs from our traditional novel or short story publishing. I get feedback right away and I get metrics (not good ones, but some) directly. I can't really see and can only guess at comparisons with others. That's a whole different thing than publishing, having the audience basically be your editor with short fiction, or with even indy publishing – we don't hear from the majority of readers so ???
Ron:
Yeah, what you're doing on Medium is definitely a different thing. You're doing social commentary, which feels almost more like old-school blogging in a lot of ways. It's very much editorial work rather than fiction.
I would expect the commentary to that form of writing to be considerably more personal in a political – though obviously there's always a political nature to all fiction. When my dad read the first couple books of my SF series, Stealing the Sun, he commented that they were really political. Which they are, but they aren't. I told him that essentially all SF has political aspects to it simply because we're almost always playing with what it means to be human. I admit I find the conversation that such social commentary should stay out of fiction to be anywhere from irksome to hilarious, depending on my mood of the day. A difference is that the reader brings themselves into our stories, and will often read their own viewpoint into it (my dad is a right-leaning person…I didn't ask how he interpreted the politics in those two books, but I could see people deciding they went whatever way they personally thought). When you're doing social commentary, though, as your work on Medium, for example, you're directly pointing at people and how they think, and thereby stripping that ability to misinterpret (or purposefully pretend about?) your viewpoint. Raw social commentary can get quite personal real quicklike.
I'm not sure exactly how that applies to the question Gillian asked regarding academic slicing and dicing of work, but I'm sure it does.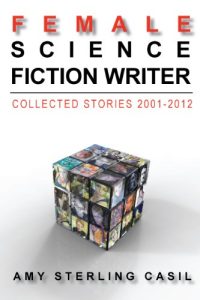 Amy:
>>I would expect the commentary to that form of writing to be considerably more personal in a political… [quotation snipped]>>
This is why I'm struggling so much with deciding how to plot or direct or even to do more sci fi, Ron. I work with all of these startups so I see the issues up front. Like I didn't really write the "political commentary" in this one this a.m. because it's such a dead deal – but the social media aspect is very much alive. I think *maybe* what I'm doing on Medium is like blogging but I have an audience there. I now put prose (creative) and have put poetry and I will re-circulate that among readers who think I'm just an anti-Clinton person or a pro-women person.
And, I do things with what I do there that are unlike blogging – I include screenshots, the captions I put on images are part of the article, I use the features of it to create different emphases (italics, bold, pullquotes). If we look at different legacy publications, particularly the big newspapers or news magazines, they have various "tools" they can use, like maps, data visualization, etc. I can and do sometimes include that.
Like with the one I just wrote, the software startup CooWe that I've been working with for about a year – they are seeking to bring people together in real life in a way that social media and the older programs like Meetup do not. It's literally dealing with the very basic level of how people decide to get together and interact, and it's based on NSF-funded research. It's very easy to use, and less stressful than the traditional efforts. And most of all, it has a not-very-obvious democratization effect that's super hard for many of us in "our age group" to accept or deal with.
Once I got over that barrier in the classroom (I was the teacher, I *had* to be in charge or I was *supposed to* be in charge) then suddenly, perfect attendance, kids who were supposedly struggling started to excel… it's people's attitudes. It's how they feel about each other, and with each other, and with themselves.
I promised my last group of students, among whom were these just amazing, beautiful, brilliant young women, all unique, all so special – I was like "girls, I love you so much, I want to put you in a story."
But I see or feel a more corporate future, much like what A.J. wrote about. I don't want to see that. But I'm not sure I have the capacity to understand or envision the way I should.
YOUR BOOKS ARE GREAT, you are my guy!!
Re: "In our age group," we're not quite where Mr. Pettigrew put Bruce. That really was his name – Pettigrew! Stock photo: I so wish I had a shot of him, he was 1000x better/funnier than the fake Kentucky Colonel.
Ron:
There's a lot to dissect there, but I think I'll focus on the … um … medium of blogging itself. I mean, really, all the journalistic movements of today (moving to Medium or Substack or Patreon or…) are to my view not a particular big leap from longform blogs which were happening in even the mid-90s. You point out the more modern use of images and pull-quotes and whatnot, but the very first bloggers—who were hardcore html/design wizards—were doing that all over the place. I was learning from them at the time, and the requirement to do it via hand-coding limited the contributor pool. Simpler tools (Word Press and whatnot) opened the field to almost anyone who could type and click.
That was so early in the social media landscape, though. Their audience (and my audience) was considerably limited because most people read newspapers and watched TV. But I followed several of them because I was so intrigued. Their examples led me to build my own presence, which grew into what I do now. I can probably pick out 50 or 100 posts I've made that are deep social commentary and that sometimes include various magazine-type aesthetics.
My point is that we've used all those techniques in the blogspace for a very long time. And into the 2000s several were growing very large followings. Scalzi's "Whatever" is one that comes to mind—and much of what he was (and is) doing is social commentary.
So, in reality, blogging has never been anything but self-publishing your own magazine—though the quality of anything, once made available to everyone, will begin to vary widely. Modern platforms like Medium and so forth, paired with everything else, allow one to find, hold, and maybe monetize their audience, though—which was always difficult with a blog.
So, yeah, I love you like a sister, but there's not a lot new under the sun when it comes to the raw mechanics of content presentation.
—
The decision to write fiction (vs. non-fiction/commentary/whatever) is a deeply personal one for which there is only your own answer. But I'll say that, for me, the formats are so different as to be impossible to set side-by-side and compare. I think there are things a narrative story can do that an essay cannot. It goes both ways, though. Story is often indirect in its approach, social commentary cannot generally afford to be anything but fairly direct and to the point.
How story vs. essay get absorbed is perhaps an interesting question—and one at least tangentially related to the idea of external analysis as well as related to your comment that says you're debating how to or whether to write speculative fiction again (stretching from sci-fi). Is it even worth it, one can read you as saying.
Well.
Maybe it is and maybe it isn't. It's hard to call.
I love, for example, all the commentary about how Star Trek (to pick the most obvious example) has suddenly gone "woke." Star Trek has been "woke" since the day it was envisioned. But when an analyst digs into what the impact of Star Trek has been on the culture of the world, it's literally impossible to get it right. I mean, has it done anything at all? The existence of the blowback from these anti-woke commentators says there are still a whole boatload of oblivious people who missed the entire point of Star Trek to begin with—but to focus on them is akin to dealing with the survivor bias. The only way you could truly identify the impact of its "wokeness" on the population would be to go back intime and remove it from the timeline.
Replace "Star Trek" with "Science Fiction" (or any story) in that conversation, and you can say the same thing.
Has anyone's art ever changed the world? I have no idea. But I know it makes my world better.
So, anyway. From a selfish standpoint, I hope you write more speculative fiction simply because I love to read your stuff. But it's frustrating. Or it can be. To write fiction is to put your heart into this piece of art, and then to be either criticized for it—or perhaps worse, ignored—is sometimes hard to deal with.
—
Whew…I certainly didn't think I'd be chatting about these topics when we started!
Mike:
Ah, yes, there are waters into which I will not wade. Several years ago, I allowed myself to become involved in what developed into a flame war with a Canadian listserv/writing group, and I have made a point of never doing so again. While I admire people, like Amy, who boldly put themselves out there, I just don't have the stomach for the inevitable blowback. And despite being an "old, white male"—the designated, collective source of all evil on this planet of choice and a descriptor I hate as much as I do the generalization of any group, racial, religious or otherwise, my Jewishness has made me a target on more than one occasion. I might feel inclined to write a reply, as I'm doing now, but I have also disciplined myself to delete before posting or sending. Walk away, Michael. Simply turn your back and walk away. You can't reason here. You can't employ facts or logic. Just shut your mouth and walk away. You cannot convince, you cannot win. 
I won't try to define academic, though there is a story that comes to mind, for what it's worth. I have a friend who taught literature and creative writing for a number of years in some well known American universities. (He was also my first creative writing prof in Montreal.) During one of his tenures, he became friends with another professor—a writer of a many popular thrillers and mysteries, a bunch of which have made their way to film and TV. My friend, whose fiction is dense and literary, decided to try his hand at a genre thriller, in the same vein as his colleague. When done, he gave it to his author pal to read, and the guy could only shake his head and sigh. While the underlying concept had merit as genre, the writing, pacing, and structure remained highly literary despite my friend's best effort. The verdict was that he simply couldn't let his hair down, remove himself from the literary trappings. In effect, he wasn't able to stray too far from his roots. Perhaps, too, there was a basic lack of understanding the target audience outside of academia.
Mike:
Um…uh…ugh…um… here goes nothing!!!???
After reading Ron's and Amy's replies, I am beginning to feel like a pale shadow here. While I've supported myself with my writing since the late 1970s, I've never seen myself as an intellectual or a particularly deep thinker. No one would ever call me the analytical type. Indeed, in my university days, my creative writing teacher, the great Canadian author Mordecai Richler, said something along the lines of, "If anyone in the class is going to make it as a writer, Michael has the best chance because he doesn't have an academic approach to anything." Some might have taken this as an insult, but not me. I saw it as a badge of honour. In fact, I still do. So please keep this in mind as I struggle to interpret both the question and construct the jumble that is my response.
I also disagree with you, Gillian. If this isn't an academic question, it certainly borders on the territory. I'm not trying to be contentious here, but I'm not sure anyone who wasn't academically inclined would pose such a question.
Anyhow, here's the short answer: "The stories I weave into explanations" come with a certain amount of pressure. I don't want to embarrass myself or come off like a doofus, so I tend to pussyfoot, striving to provide an answer that sounds reasonable, but would likely fail to make any real sense should anyone scratch beneath the surface. In other words, I'm a bluffer. As for the stories I write for my fiction, they are mine to approach as I please, and I like to think of them as genuine. I sit. I think. I write. And my brain fills with joy as the story builds and the pieces fall into place. The only pressure is that which I put on myself to get the thing done, without fear of judgement. Here, the keys for me are the opening sentence and voice. When I land both, I land the story.
Now for the long answer: Starting in the late 1970s, I worked full time in advertising as both a copywriter and a creative director, while writing fiction in my spare time. Meanwhile, I also wrote and hosted a Sunday-morning talkshow on Montreal radio, a side gig I maintained for twenty years. The program's subject matter was trivia. Movies. TV. Golden Age radio. Sports. Science. Geography. Nature. History. You name it!
As a result of the show's popularity, I was often invited to perform an interactive, non-broadcast version of the program for various groups and charitable organizations in the city. After one of these events, a friend in the audience came up to me and said, "Who are you? That wasn't the Michael I know up there." She went on to say that I was like a different person on stage, the transformation occurring from the get-go and right before her eyes. I recalled how my wife had said something similar to me when I first started in radio. Similarly, an art director at the agency had mentioned to me that I was one person when we were brainstorming an ad campaign and a totally different person when pitching to a client. To this I'd have to add that I'm someone else yet again when it comes to questions such as the one you have posed, and yet another personality when I approach my fiction.
My brain and personality adapt to the situation I'm in at any given time. With family and friends, I'm generally quiet and laid-back, prone to quips, though occasionally perceived as angry or glum. For the most part, I think I listen more than I talk. But put me in front of a microphone or before an audience of any size, and it's as if this other Michael bursts through, entertaining and informing. Truth be told, in such situations, my favourite topics of conversation are ME AND MY WRITING. ME. ME. ME. Strange thing is, I suffer tremendous anxiety in advance of whatever it is I'm going to be doing or presenting. I guess you might say I live with the fear of bombing. For the first nine years of my time on radio, for instance, a queasy gut preceded every show, dissipating only thirty seconds or so after hitting the air. In this same vein, fresh and cleverly constructed interviews such as yours also raise the anxiety level.
And yeah, as mentioned, I'm a different person yet again when I sit to write my stories. Of all the Michaels, I like this one best. First off, the anxiety is absent. And while that outgoing guy from radio and advertising is still present, this personality is expressed in the stories that prevail on the page.  As corny and cliched as it might sound, I truly do experience a natural and joyful high as my characters reveal themselves and the plot, as they say, thickens.
I'm not sure that I've come anywhere close to answering the question. Heck, I'm still not sure I understand the question. But there you have it to make of it what you will.
A last word (for now) from Gillian. Signing off for today. These were interesting waters and next week's section of the interview is even better. Watch this space!