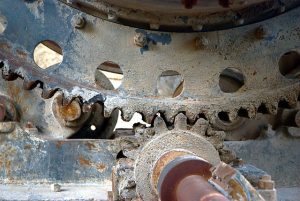 My body is not a temple. It's not a wasteland, either, or a castle, or any other locational metaphor I can think of. It's a body, and frankly I tend to treat it like a machine. I take moderately good care of it–I don't eat terribly (I'm fortunate that I like almost all healthy foods except liver and hard boiled eggs). I live a modestly active life–I walk a lot. I try to read and stay involved with the world (there's a heartbreak) and to laugh as much as possible (I am helped in this by an extraordinarily silly family). But all the laughter and eating healthy and spending 45 minutes on the elliptical does not alter the fact that I'm getting older. I'm not trying to stay young–that's a mug's game. I'm just trying to optimize what I have.
My father made it to just-shy-of-98. His twin made it to 100. My mother died relatively young, but she had health complications that made it, well, unsurprising. But her sister is 97. Genetics-wise, and barring speeding vehicles, falling pianos, or illnesses I can't currently anticipate, I may be around for a while, yet. And so I keep using what I have. Of course, what I have is not what I used to have, I forget that sometimes.
Case in point: this weekend my daughter and her husband moved. Discovery of several rooms-worth of black mold made this not just a good idea but an imperative. My husband and I drove up to help, and spent about eight hours packing things, carrying heavy things, and (in his case) driving a truck to and from storage. The move was complicated by the fact that my daughter had hurt her back and couldn't lift anything (well, she could and did, but every time she did her body informed her that this was a dumb idea). I climbed up and down stairs (and was grateful to have remembered to bring my knee brace). After a few hours of standing in the kitchen packing dishes I had to take off my shoes: my feet hurt. I carried some boxes I probably shouldn't have. But the work had to get done, and I did my part. But every now and then the thought occurred to me: this used to be a lot easier. A lot easier.
The bill started to come due on the drive home, when my entire body hummed with exhaustion, the knee brace was squishing my leg, and my feet ached no matter whether I had shoes on or off. It took about 36 hours–and two good nights of sleep–to restore me to my usual level of reckless activity. But I am reminded again that, while I tend to treat my body like a machine–oil it, fuel it, make sure it's running smoothly, surely it'll run forever–it's not a machine. (Hell, even a well-tended machine has a useful lifespan, after which it's–what? a museum display?) My new resolution is not just to hear what my body is telling me, but actually listen. I'm in it for the long game, maybe another 20-30 years, during which time what I have won't be what I used to have. My goal, in the words of Spencer Tracy in Pat and Mike, is that "what's there is cherce."