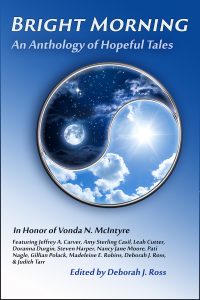 The humans have been busy working on a book together. This is something we crows have not seen them do before. The book is in honor of someone they knew who died. We do know about honoring the dead.
They call this book Bright Morning, and they have filled it full of stories. Being the resident editor of the Treehouse, I looked it over. There are no stories about crows, but there are some about horses, dogs, and dragons, so that's all right. At least the humans are thinking about beings other than just themselves.
Here is their announcement about the book, and a picture of the cover. There will be a paper book with a shiny cover next month, they say.
Vonda N. McIntyre preferred to keep her author's biography short and sweet: "Vonda N. McIntyre writes science fiction." While true, this modest claim conceals accomplishments that earned her multiple accolades and an enduring place among the most influential fantasy and science fiction writers of the 20th and 21st centuries.
Even more important to the authors of this tribute anthology, McIntyre was a kind and generous supporter of other writers. In Bright Morning, eleven career writers of science fiction, fantasy, and other genres share stories of hope in her honor, along with their memories of working with McIntyre. Profits from the anthology will benefit a charity that promotes literacy for children all over the world.
Bright Morning
An Anthology of Hopeful Tales
In Honor of Vonda N. McIntyre
from the Treehouse Writers
edited by Deborah J. Ross
Order Bright Morning from your favorite bookseller