On the day after my birthday — a day when I was moving slowly and late getting around to eating — I contemplated the idea of chocolate cake for breakfast.
I had a lovely rum ganache cake for my birthday, from the local Oakland bakery Taste of Denmark (which is owned by its employees). It is a very rich, very tasty, very chocolatey cake and I like it very much.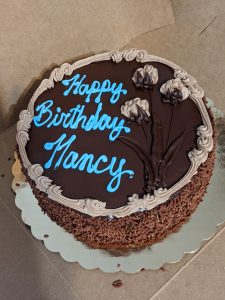 But I didn't eat it for breakfast, because I realized that I didn't really want cake. I wanted real breakfast: fresh fruit, homemade granola, good yogurt, some almonds.
That, I think, is being a mature adult: recognizing that you actually don't want things that sound like indulgences because they really wouldn't be all that enjoyable. Another piece of cake after dinner is very pleasurable, but treats are really more fun when they're treats, not a substitute for the basics.