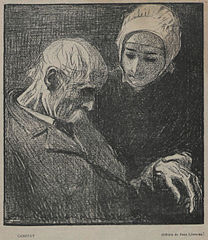 This week's offering is short due to the conjunction of my 75th birthday and the spring holidays. The war and its personal repercussions are never far from our thoughts. My family celebrates Passover, and the unfolding tragedy in Ukraine came up many times in our conversation. We all saw Putin as a would-be latter-day Pharoah, certainly a tyrant. There's a part in the ritual where we call out the names of the plagues visited upon Egypt when Pharoah refused to let Moses and the Israelites free. Our Haggadah includes calling out the names of contemporary plagues. We all looked at one another and said, "Putin!"
And yet, the holiday reminds us to have compassion, even for our enemies. There's a part in our version where angels start singing when the Egyptian soldiers are drowned in the Red Sea. HaShem admonishes them by saying, "The work of my hands is dying and you want to sing hymns?"
I'm not suggesting anyone should pray for Putin. I very much suspect that if he were to keel over from a massive heart attack tomorrow, there would be dancing in the streets in more than one nation. As much as we hold him responsible and abhor his actions, what do we want from him? Certainly, to stop waging war on Ukraine. To pay reparations to make ameliorate the grievous wrongs he is solely or primarily responsible for?
If we say we want Putin to be punished and to suffer for what he has done, the question remains, in what way? How is it possible to quantify the amount of human suffering—not to mention financial loss, environmental degradation, the ruin of cities? How can there be amends for such heinous crimes?
As a corollary: If we focus all our righteous outrage and even hatred on one man, what are we then ignoring? Even if Putin were to be tried in an international court of law and found guilty, even if he were to be deposed or assassinated by his own people, that cannot bring back the slaughtered Ukrainians or restore their once-beautiful cities. For all our focus on the unfolding military conflict and economic sanctions, consider what it does to us to turn away from what we can do, if only in small measure, for those in desperate need of help.
I love home generous Americans and our allies can be when we see the need. This is why I asked friends and family to donate to Doctors Without Borders (Médicins Sans Frontières) instead of birthday gifts. While the $1500 is a small drop in the bucket of need, I know it is part of the effort to save lives and alleviate suffering. I chose this charity because it's one of my long-standing causes and I believe in the work they do.
I have also found that taking action, no matter how small, helps me to feel less powerless in the face of seemingly overwhelming evil in the world. We're in a position to make small donations of money. I don't think that's necessary. Small actions of lovingkindness can be even more powerful.
If this post is meaningful to you, please link to it. And check out my previous posts.