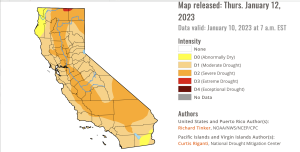 I have rain fatigue.
This is the rainy season in San Francisco. We know to expect that December through February will be wet–although this year the procession of atmospheric rivers, cyclone bombs (WTF?) and their accompanying sequelae–floods, mudslides, property damage, even loss of life–seems to be overdoing it. The mantra, in California, is "We need the rain." And we do. The unrelenting rain of the last month has been a soggy, cold, disastrous blessing. If you'll look at the map, you'll note that there is no where in the state that isn't "abnormally dry." Currently a little less than half the state (46%) is in a state of severe drought,. Sounds pretty awful. But wait, what about all that heavy rainfall in the last month? Hasn't that helped at all?
In fact, it has. A lot. Three months ago 94% of the state was in a state of severe drought (41% was actually in extreme drought). Three months ago 16% of the state was in a state of exceptional drought–and exceptional, in this situation, is not a good thing. So that last month of rain has been a godsend. And given how far the state still has to go in order to be out of a state of drought, I should not complain if we get another month or two of deluge.
Sadly, I almost certainly will. Continue reading "So Much of a Good Thing"…