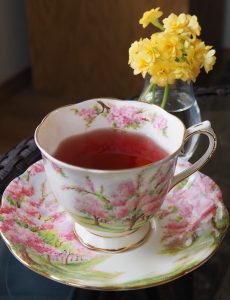 The past year has brought many changes to our lives. Almost everyone I know has let go of something that was no longer valid in their life. So have I, and I expect this will continue. We will emerge from the isolation we've endured (some of us more comfortably than others – I'll get to that in a minute), but we will not go back to the way life was before. Instead, we will go forward.
For me, sheltering at home did not make a huge difference. As a writer, I already worked at home. I'm an introvert, so I don't mind isolation. The biggest difference was that my spouse began to work at home also, and this has now become permanent for everyone at his company who used to commute to an office building. That office, we recently learned, will not reopen. My spouse will continue to work in his home office across the hall from mine. The change, for me, meant loss of alone time. As an introvert, I treasure alone time.
That's why I'm grateful for my daily practice of tea and silence. Each morning, I feed the cat, then make myself a pot of tea and sit in the sun room with it. The first cup I drink while gazing out the windows at the morning sky, the trees, the birds, and the clouds. This connection with the natural world around me is so important to me – it sets the tone for my day. It reminds me of the world of which I am a part.
The cat comes and sits in my lap. I write in my journal, I usually color a bit (I decorate my journal with art), and I often write a note to a friend. Most days I spend about an hour with tea and silence, though it could be as little as fifteen minutes. I always conclude my writing with a statement of gratitude, and I spend a few minutes in meditation.
This is a practice I will not be giving up. It has helped me cope with the loss of alone time, and with the stresses and uncertainty of the pandemic. I recommend it to anyone who wants to start their day with a moment of quiet, rather than immediately jumping into activity.