2020 is an ongoing trash fire.  That's just a fact.  It's easy to get bogged down in it, to decide there's no damn use, to just…sink under the weight of it all. Like most people, I'm barely getting through the day. Taking on more responsibility seemed crazy.
But I'd been thinking for a while about getting a dog. And when the older of my two cats passed this spring, and I moved into my own place, it seemed like maybe now was the time?
So I started looking at shelters, putting in applications for dogs who matched what I wanted: a young adult, mid-sized and solidly built, who was cat-friendly.   Each time, I lost out because there is a scarcity of cat-friendly pups available after the great Lockdown Pup Adoption Frenzy.  So, meh, I figured it would take a while.
Then one of the shelters I'd applied to reached out and asked me if I'd be interested in fostering, since they knew I did that for Homeward Pet.  And I said, sure, why not?  And they said, "we have 8-week-old puppies."  And I said, "sure, why not?"  Because I'm an idiot like that.
"They're 8-week-old Red Heelers," they said.  And I said, "oh hell."  Because that kind of high-energy, high-attention critter was very much not what I was looking for.
And then I saw the picture of "Minnie" and I may have lost a bit of my heart to her.  So I agreed, and the night before my birthday, a transport of twenty-four (yes, 24) pups, including Minnie and her litter mates, arrived, and were parceled out to the waiting fosters.
Dear Reader, I may have known what I was agreeing to, but I had no idea what I was getting into.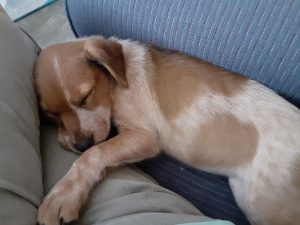 Minnie (whom I immediately dubbed the more accurate "Maxi") is a delightful, adorable, slightly clumsy, and surprisingly thoughtful creature, and I already adore her.  But she. Has. To. Pee. Every. Three. Hours. 
Which isn't a problem during the daytime. Having enforced breaks to get up and stretch my legs has been nice, actually.  But at night?  At night it's a different story.
And no, I can't let her pee in her crate.  Or, I could, but it's a bad idea, for many reasons, and I'm not going to do that.  So I'm setting my alarm, and getting up at midnight, and again at 3am, and again at 6am….
It's only been three days, and I'm beyond exhausted.  I've got a book I need to revise, and a couple of short stories to write, and a day gig, and a regime to protest.  And a cat who is being really good about all this but also wants his Human Time. 
There are times I just want to sink.
But.  In the midst of the trash fire that is 2020, there's something kind of amazing about having this fresh, fragile, trusting life in your hands.  About knowing that you can do it right, and make sure they get a solid start to life, to grow up confident, unafraid, and loving.  Healthy, and happy.
And to know that whatever you do is returned to you, immediately.  Because when I stagger to the crate at 3am, I'm greeted by a warm, wriggly bundle of sheer joy, who wants only to lick my face – and pee, yeah, but first, there needs to be face licking.
And between kitten snuggles and puppy kisses, I'm able to think not just about surviving, but thriving.
If she'd just stop licking my face so I can work.