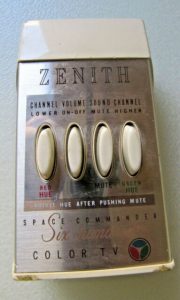 What do you call the remote for your TV/DVR/cable box etc.?
In my house, it is referred to as the cacker, as in "Can you hand me the DVD cacker?" My kids grew up with this word, and had to adjust to more standard terminology when their friends stared at them blankly. "The wha?" "The cacker. You know, the thing for changing the channel." "You mean the remote? You're weird."
Well, of course. They're my kids.
I'm not entirely sure how this word came to be in use in my family, but I know where it came from. When we were very small, my brother used to hammer at things with a piece of a broken wooden toy with, if memory serves, a nail sticking out of it. We will leave aside the question of why my parents didn't immediately take this weapon from him. He called his tool a cacker, and when he hammered at things he was cacking. Don't judge him–I think he was four years old.
But do all families do this? Take a word that derives from family history and use it in a way that makes no sense to the outside world? My family use farfelle as a verb (meaning to blow raspberries on the surface of someone's skin) rather than a noun. My husband's family used "pumbaa" to mean fart–when we saw The Lion King the first time he kept snickering every time Pumbaa the warthog came on screen. It turns out that in Swahili the word means "to be absentminded, careless, foolish, ignorant, lazy, stupid and negligent." But it's also used for warthogs, so there you go. Where on Earth did my mother-in-law and her family get the word from? And sometimes it extends to weird phrases whose origins are shrouded in the mists of decades: I doubt that anyone else says "you're breathing out of your armpits" to mean that gasping that happens when you've laughed almost hard enough to cry.
I love this sort of familial anthropology–maybe because I am one of those tiresome "I can get drunk on words" sort of idiots, but just as likely because there's encapsulated history in each of those words. And like a lot of history, if you don't capture it, the original meaning will fade and you'll be left with nothing more than a Pumbaa.
__________
ps: the image above comes from a listing on Ebay for (obviously) a very very old TV remote. It was listed for $500, which leads me to believe there is a group of my fellow citizens who are willing to spend big bucks collecting old TV remotes. Or cackers, if you will. It's a really interesting world.