Wait, what, you may be thinking – Laura Anne saying "too many dogs?"  Is she all right? Has she been replaced by a canid-hating alien?
No, it's still me.  But my fellow humans have once again tipped the scale and made me rant.
I admit it: I am in many ways the quintessential, stereotypical PNW dog owner: I see no reason why my dog should not accompany me pretty much anywhere and everywhere.  Within reason, okay, and not to get up in the face of people who don't like dogs. I get it.  I mean, I don't  GET it, but I respect their dislike, whatever the reason for it.
Now, I've got some reason for my feelings: Max is (for the most part) a well-trained dog who understands how to behave in public spaces.  And there's little pleases me more than seeing other well-trained dogs sharing public spaces.  People, mostly, are happier when dogs are around.  Lord knows, this world needs more happiness.
Last week, however, I had to reevaluate my position on, "dogs, yay!"
Because of a change in my schedule, I went to a different farmers market than I usually attend. This one was slightly smaller, and it was all packed into one street. Which was a complication, but they'd laid out the pedestrian traffic lanes pretty well. 
But because of the location, and perhaps because of the neighborhood it was situated in, they were a number of people with small children, and dogs — and occasionally small children and dogs. They were also, because of the location, a great number of people sitting at café tables outside of restaurants and stores, watching the crowds go by.
This was a little problematic for me, for reasons of Covid and crowd trauma.  But it was outdoors, people were mostly-masked, it was fine.
But.
There were too damn many dogs.
These were good dogs, as far as I could tell.  They seemed to be well-behaved, and completely under their owner's control. Normally I would consider it an excellent example of why dogs and humans should be allowed to interact.
But.
There were just too damn many of them for one already-crowded street.  Every step, another dog, every turn, another dog.  Dogs under a barrage of noises and smells, including the doubtless distracting smells from the food booths.
And people being careless about where their dog was poking their nose.  Yeah, your dog may be the friendliest thing that ever wagged.  But you still need to pay attention to what's going on.
So there I am, being hyper alert, and I could feel Max starting to stress, partially because she could sense I was worried, but also partially because she wanted to play with a lot of the dogs, and they wanted to play with her, but she knows that market time is not playtime.  Probably a lot of other dogs had the same tug-of-war going on behind their big brown eyes.
There's only so much you can ask a dog's brain, and its desire to please you, before something's gotta give. And when something gives in a dog, you get stress, and when you get stress you get barking, and occasionally you get biting.
So we did our shopping and got the hell out of there.  And I won't be going back.  Because hell yes, I'm leery of crowds these days.  But sometimes it's not trauma.  Sometimes it's just knowing the odds.
So fellow dog owners, real talk: our dogs don't have to go everywhere with us.  Honest.  And if you just gotta take them with you to the weekend market, deputize someone to wait with them outside the market while you wander in and out of the booths.
The disaster you avert may be your own.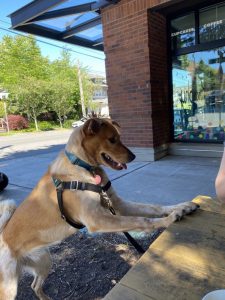 A slightly saltier version of this post originally appeared at my Patreon.