It's one of those Mondays. I say this with much care and I'm drinking much coffee. Normally I would give you a book post on a Monday, but Australia's much-awaited (by us, anyhow) election was called yesterday. This is not just any election. It's our last opportunity to move away from rabid and corrupt politics. It matters. I asked if that meant I should post about it and Nancy Jane Moore said, "Yes, please."
I'm doing two posts. The first one is on my Monday and the second is will be posted when Monday finally hits the US. One is about our parties, and the other will talk you through our electoral system. All the cool stuff is in this post, and I introduce the parties. I'm not hiding my opinions – you can see where my vote is likely to go if you read carefully.
First, you need to know that, in Australian popular opinion, our current Prime Minister, Scott Morrison, belongs in the same crowd as Boris Johnson and Donald Trump. When Trump was US President, the two acted as if they were best friends. Morrison is a fundamentalist Christian of the prosperity theology variety and, until a few weeks ago, was publicly a close friend of Brian Houston, the Hillsong leader who is currently on trial.
Until a few years ago, Australia was on various lists as one of the least corrupt countries in the world. Right now we're not even considered close to achieving such an honour. In the last ten years, international influence and local decisions by the ruling party and their allies have pushed us away from our cultural standard.
How did this happen?
Just one example will explain it. In the last three years we've not had a week without a disaster of enormous magnitude. The Federal government put money aside to help and didn't spend the vast bulk of it. In fact, a few weeks ago, the newspapers told us that the government had earned $800,000 on interest on unspent disaster relief. State governments have taken the brunt of getting people through disasters such as bushfires, floods, and the pandemic. Because they were promised Federal help and only a tiny fraction of the promised help came, we still have people who are living in caravans because they received none of the promised help when the 2019-20 bushfires ripped through territory the size of Syria. Some of these people have been evacuated (or even died) when the floods hit their town this year.
This is unheard of for Australia. We used to be outstanding at getting people through natural disasters with ridiculously low death tolls. We now don't even have proper Federal policies to handle the natural disasters, and the government keeps cutting back support of the scientists who predict them and all the various bodies who normally find ways of dealing.
That's just a small part of a complex picture. Australia is moving from being a laid-back country that really tries to do its bit, to a somewhat corrupt oligarchy. We still have our base culture, but I don't think we can handle three more years of this culture being intentionally ground underfoot.
May 21, as you can see, is an important election. It will decide who we are and whether we care about people, about the land… about anything other than a small group of individuals making much money. The current deputy leader, theoretically representing rural Australians, has said quite clearly that money is more important than anything else. Farmers are one of his chief voting blocs, and he makes it clear he doesn't care.
How we got this way has an interesting and sad history. It follows the same path as the changes in the US Republicans, and some of the same factors are at play. I don't want to talk about that here. Instead, let me introduce you to who is standing for election. Our parties are not what they look like to non-Australians: their names are, to be honest, not that intuitive.
LNP – Liberal National Party, or the Coalition. This is the party currently in power. They are most definitely right wing.
'Liberal' in Australia has always referred to the small government (or smaller government) party, but these days it is the party that supports the coal and gas industries and is, to be fair, well-supported by those industries in return. In the sixties and seventies they supported cheap or free education. The free education was brought into play by the Labor party, and is the reason no-one my age ever suffered from university debts. The Liberals kept it when the Labor party was voted out. It was a Liberal leader (Malcolm Fraser) who was in charge when I was an undergraduate, and made sure that I paid no tuition fees. I paid student union fees (less than $100 a year) and for books, and anyone without income got Austudy , which was not quite enough to live on, but Austudy and a part-time job got most students through university with no debt at all. These days students emerge from undergraduate degrees between $20,000 and $100,000 in debt (or even higher) – it's a choice between education and owning a house, even for most people who come from comfortable backgrounds.
These days the Liberals are, as I said earlier, quite right wing for the most part, despite the name. Even for a right wing party, they are light on addressing climate change, which is why Australia is labelled as bad on climate change – if you poll people's opinions, dealing with it is important to us. It is not, however, important to our current leaders.
How does the LNP act in Parliament? One of my favourite clips (my least favourite clips make me want to weep): https://www.youtube.com/watch?v=K7UCSpZB5Bo
Labor – currently the Opposition. Labor started off from the union movement. Unions are still much bigger in Australia than in the US, and considerably more powerful, though less than they used to be. It was, originally, definitely left wing but has drifted towards the right in recent years. Let me be clear, though – right wing in Australia is not the same as the US right.
The spelling of the name is due to one of their early leaders, King O'Malley. He was very important in the days when Australia became independent and he founded a party and… he was American. This is why the name of the party uses US spelling. Canberra (our national capital, where I live) reacts to this naming in its own way. O'Malley was a teetotaller, so a pub was named after him. I have met friends at King O'Malley's many times and each and every time someone makes a joke about the spelling of Labor.
The party is now centre left (mostly) and centre right (increasingly often). It's not a left wing party. If someone from the US were describing it, however, they might call it 'left wing', because of the same factors that made the old-fashioned Liberals strong on education and social welfare. Education, health, social welfare, and owning a home are four dreams that a large number of Australians agree on. Almost all of us also agree on doing far more to prevent climate change than we currently attempt. State Labor parties have a (mostly) good record on this.
Federally, Labor haven't been in power since September 2013, so their record on all issues at the federal level is tangled with the strange politics and voting patterns of Opposition. Labor has a history, in Parliament, of not shouting loudly against things they can't change ie by voting agreement where nothing can be done, and saving the arguments for places they can make a change. They may be not-good on climate change, then, or they may just be biding their time.
Labor has the electoral advantage of everyone's favourite politician (OK, maybe not everyone, but a surprising number of us). Penny Wong is wildly popular. She refuses to move to the House of Representatives and become leader and every few months people say, "But why???" She's probably right on not trying for leadership. Most leaders have come from NSW, Victoria or Western Australia and she's from South Australia. What's more, the bigoted parts of Australia hate her as much as the rest of Australia loves her: she's Malaysian Chinese Australian and gay. She is targeted by many, many bigots and the way she handles these people is one of the reasons she is so popular.
She is also popular because of how she handles difficult issues. We watch her for her facial expressions as much as her words and her attitude. When she looks at someone in Senate Estimates and waits a moment before saying something, a clip will be sent around social media, to illustrate a moment where someone not doing their job was forced to explain. Her ethics matter to us. Clips of Wong are always circulated when Senate Estimates (one of our methods for ensuring government accountability) is at work. Let me show you. First, something very everyday (and actually Senate Estimates, where Wong is seeking answers from a minister for things done): https://www.youtube.com/watch?v=ein2OPaX4GI It's not the most colourful of the clips, but it shows the everyday work she does and why she's liked. It also helps that she does things like this: https://www.youtube.com/watch?v=T5pxE4RXpjc
Greens – the next largest party (mostly). Until recently they were a bit gentler than the Greens in other countries, but these days they are fixed in their policies and have very strong views. They still get a lot of the left wing vote, but some of us would really like it if they listened and were a bit more adaptable.
Pauline Hanson, Clive Palmer and other leaders of small right wing parties. We have them in abundance. They get up to 15% of the vote in some states and some elections. They're a story in and of themselves. They're important politically, but can also be problematic. The old White Australia is best represented in these parties.
Independents: not new at all, but a particular type of independent candidate, based on grass roots decisions in a given electorate, is gaining a bigger voice than previously. These candidates are the main reason this election is impossible to call. Their colour is teal and many of them get backing from groups such as Climate 200 – addressing  climate change is one of the few policies they all totally agree on. Much of this voice belongs to the centre-right and their supporters used to be the core voters of the Liberal Party. This election is going to be one to watch, because if these independents do well, then several ministers are in danger of losing their seats.
The Liberals are so worried about them that two Liberal candidates have shifted the blue of the party in all their advertising to a shade closer to teal and one took his party's name off some of his corflutes. The Liberals are not just fighting Labor for a majority: an interesting number of them are fighting for previously secure seats. In the 2019 election Zali Steggall (an ex-Olympic skier) defeated the previous prime minister in his own seat. Several of the "Voices of…" (the official term for the new grassroots candidates) are ex-journalists or sportspeople.
In Canberra, I don't know yet if there are any standing for the lower house (the election was only called yesterday), but there are independents standing for the Senate, and one of them is, indeed an ex-sportsman, David Pocock. He's not part of the teal people, but he is the leading candidate to challenge our Liberal senator (whose name is Zed, which isn't nearly as funny in US English as it is in Australian English – for us 'zed' is the final letter of the alphabet) and the moment a particular picture of him was circulated, his vote increased enough to make people start to pay attention to him. He now has an audience for his policies, but for such an Australian reason.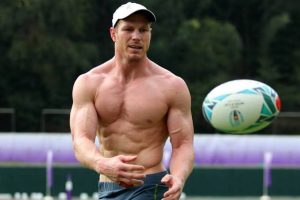 This is not a complete introduction, but I've run out of time. When I meet a couple of deadlines, I will write you the next post, and you can see why the election is so soon and some of the mechanics behind our system. In some ways it's very different to the system is the vast majority of democracies. Almost every vote counts here. And we have democracy sausages.
Watch this space.