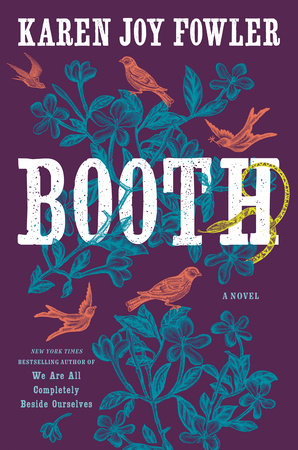 Last week I realized Karen Joy Fowler's latest book was out, so I walked over to East Bay Booksellers to pick up a copy of Booth.
I'd considered waiting. It has never occurred to me to be interested in the family of John Wilkes Booth.
But on the other hand, if I have not read every piece of fiction published by Karen Joy Fowler since I stumbled over an early collection of her short stories in a bookstore in New York City sometime in the 1980s, it is not for want of trying.
I still adore "The View From Venus," which is one of the first of her stories I ever read. I had a fight with an editor of a science fiction review magazine when I wanted to name "What I Didn't See" as my favorite story of the year. (He said it wasn't science fiction. SFWA members disagreed — it won the Nebula that year.)
The Jane Austen Book Club is the only book I can remember that was embraced with equal enthusiasm by my mother, my sister, and I (all big readers, but with different tastes). My friend Anne Sheldon, with whom I share a passion for baseball, got me a signed copy of The Sweetheart Season as a gift.
And We Are All Completely Beside Ourselves blew me away.
So I bought Booth and ended up staying up into the wee hours to finish it the other night because it was just that good.
This was not a case of not being able to put the book down because I had to know what happened next. Booth is an historical novel about the family of the man who murdered Abraham Lincoln. You go into it knowing how it has to end. Continue reading "Ways of Telling Stories"…