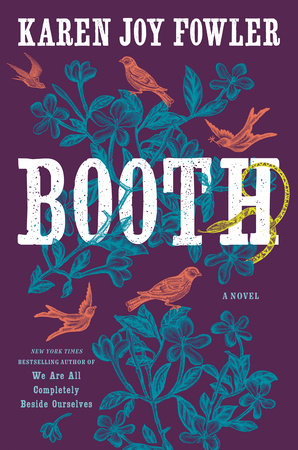 Last week I realized Karen Joy Fowler's latest book was out, so I walked over to East Bay Booksellers to pick up a copy of Booth.
I'd considered waiting. It has never occurred to me to be interested in the family of John Wilkes Booth.
But on the other hand, if I have not read every piece of fiction published by Karen Joy Fowler since I stumbled over an early collection of her short stories in a bookstore in New York City sometime in the 1980s, it is not for want of trying.
I still adore "The View From Venus," which is one of the first of her stories I ever read. I had a fight with an editor of a science fiction review magazine when I wanted to name "What I Didn't See" as my favorite story of the year. (He said it wasn't science fiction. SFWA members disagreed — it won the Nebula that year.)
The Jane Austen Book Club is the only book I can remember that was embraced with equal enthusiasm by my mother, my sister, and I (all big readers, but with different tastes). My friend Anne Sheldon, with whom I share a passion for baseball, got me a signed copy of The Sweetheart Season as a gift.
And We Are All Completely Beside Ourselves blew me away.
So I bought Booth and ended up staying up into the wee hours to finish it the other night because it was just that good.
This was not a case of not being able to put the book down because I had to know what happened next. Booth is an historical novel about the family of the man who murdered Abraham Lincoln. You go into it knowing how it has to end.
What you learn from it is what growing up in that family was like and what that horrible act did to them.
Madeleine Robins wrote on Wednesday about the five-beat plot and how it's neither required nor bad. Booth is an example of a great work of fiction that doesn't fit into that structure. At all.
The characters — primarily Edwin, Rosalie, and Asia, three of the Booth siblings — run into plenty of obstacles. They deal with them in a variety of ways — drinking and denial and guilt are but three — but don't really overcome them. They survive in one way or another, but they do not change in any fundamental ways.
You do not read this book for the story. You read it for what their story reveals about a large dysfunctional family that included some of the most talented actors of the day. You read it for what their lives reveal about the deeply divided United States of the 19th century (and about those who just wanted to live their lives without engaging in that division). You read it for the subtle reminders of the limits on women.
And you read it because in the hands of a master writer like Karen Joy Fowler, all these pieces come together.
This book is a spectacular work of writing craft by someone who has spent her life honing her writing skills and can make each chapter, each paragraph, each sentence do its job. It is told from multiple points of view, mostly in the present tense. Snippets from Abraham Lincoln are sprinkled throughout — you cannot discuss the Booths without Lincoln.
I have never read another book quite like it.
One thing this book does not do is make the reader become emotionally invested in any character. You are always at a distance reading this book. You care about the people, because you can see their pain, but your very knowledge of their fate makes it impossible to get too close.
While I would have said that being emotionally invested in a character was very important to me as a reader, it is now clear that I don't always need that connection.
In an odd way, reading Booth made me think of another book I read recently: Kim Stanley Robinson's The Ministry for the Future. It, too, is a book that defies the oft-stated rules of plot and structure. And while it builds to a climax — can the many characters in this story do enough to shift the climate away from catastrophe? — it was also a book in which I did not find myself caught up in any one person (though I was rooting for the future).
Stan and Karen are friends and, in fact, at one time met regularly to write together. They are very different writers, but they are both absolute masters of the art. They wrote these books with specific intention.
Reading both of them has given me new ideas not just about the stories they're telling — for Booth provides a base for looking at the divisions of today in the U.S. while The Ministry for the Future gives us a (sort of) hopeful path to the future — but about all the ways writers can tell stories. It's also making me think deeply about how and what I want to read.
These works use style and craft in different ways to create their stories, but they do so much more than just play with words (a place where some experimental literary work gets stuck). Playing with words is fun, but the end result needs meaning to be more than a pleasant game.
Booth is a compelling book, but it's not an easy one. As you get closer and closer to the assassination, you want to cover your eyes, to avoid seeing it. And yet you can't.
I recommend it highly.