Treading Lightly is a blog series on ways to lighten our carbon footprint.
---
I like the convenience of grated cheese for cooking. Friday is Cheesy Macs day at our house, and the cheesy macs are made from scratch. One time, though, I opened a package of grated cheese and discovered it was moldy. The freshness date was still in the future. Disgusted, I tossed it.
Why buy packaged grated cheese that has who-knows-what added to it to keep it fresh and can still be moldy? Plus, single-use plastic packaging. Bad!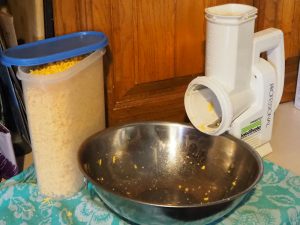 I started buying big blocks of sharp cheddar, grating it myself, and storing it in the fridge. No mold! It's perfect for cheesy macs, grilled cheese sandwiches, and sprinkling on top of enchiladas and dozens of other things.
Because I am a big pasta fan I also buy blocks of Romano (which I prefer to parmesan) and grate that, too. Perfecto!
Cheese can be grated in a food processor. I use a gadget called a salad shooter, which is designed for shredding vegetables. (I don't use it for that.)
Grating your own cheese is also less expensive than buying packaged grated cheese. Like, WAY less expensive!
Have I made you hungry yet? No?
OK, grated cheese can also be used for chile con queso (nacho cheese, if you'd rather call it that), pizza, cheese sauce to pour over your favorite steamed veggie (broccoli, cauliflower), just about any pasta dish, baked potatoes, on and on and on. Once you have a container of freshly-grated cheese in your fridge, you will find a ton of uses for it.
Give it a try! Go buy a block of cheese, grate it, and enjoy! You'll have fresher cheese, save money, and be treading a little more lightly.