It turns out, lots of readers want stand-alone short fiction — short stories, novelettes, even novellas, which are basically short novels. They like being able to finish a story in a single sitting, as well as the conciseness and jewel-like precision of short fiction. I've been bringing out some of my best, most recent, in this format.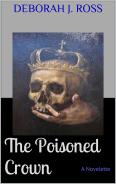 "The Poisoned Crown," will be out on June 1 and is available for pre-order here.
The king is dead, long live the prince, but not for long if his stepmother the Queen Regent has anything to say about it. So he appeals to the one person he can trust, his father's best swordswoman and secret lover. Venise wants nothing more than to bury herself in her grief at the king's death, but her conscience will not allow her to abandon the young man who is so like his father. The only question is whether the two of them can stand against the Queen Regent's black magic.
I hope you enjoy it! To whet your appetite, here I read the opening.