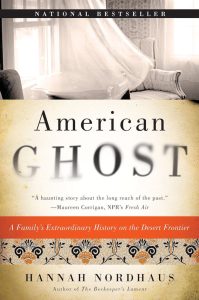 Ghost stories are an American obsession. We gobble them like smores around a campfire, with the wind whistling through the tree branches in the darkness behind us and unidentifiable noises keeping our nerves tingling. Hannah Nordhaus's American Ghost is not quite that kind of spooky, though she shares her adventures from attempts to communicate with the spirit world to rummaging through crumbling historic documents and spending a night in a haunted bedroom hoping for a glimpse of her ancestor, Julia Staab.
Julia is famous for haunting a 19th century Victorian mansion in the heart of Santa Fe, New Mexico. Today that mansion is part of La Posada de Santa Fe, a luxury resort hotel, which openly celebrates its resident ghost. With a journalist's determination, Nordhaus pursues the facts about Julia: whether she really haunts the Staab house, who she was in life, and how as a young bride she came from a small village in Germany to live in territorial Santa Fe with her new husband.
Abraham Staab, a man of modest means from the same German village, emigrated to America as a teenager and began amassing a fortune importing dry goods along the Santa Fe Trail and selling them to the the frontiersmen and military posts of New Mexico. By the time he returned to Germany to find a wife, he was well-to-do. Sixteen years later he was one of the wealthiest men in New Mexico, and he built an elaborate three-story mansion as a fitting home for Julia and their seven children.
In the absence of any diary or correspondence from Julia herself, Nordhous hunts for clues among the papers and oral history of Julia's descendants, newspapers of Julia's day, records of Julia's physician, and the places where she lived. As she searches for elusive details about Julia's life, the author is haunted by questions. Are the rumors of Julia's madness true? Did the loss of a child drive her over the edge? Was she imprisoned in her home—perhaps even murdered—by her husband? Does her restless spirit walk the halls of her mansion, seeking some part of herself that is forever missing?
For a New Mexican who loves Santa Fe and its history, this book is a delightful exploration of a tempestuous period. The West was very wild when Julia arrived. As one of the few "American" women in Santa Fe, she played an important part in the evolution of the city toward a more civilized, if not yet entirely tamed, community. Her story is poignant and laced with the inevitable sadness of life, yet Julia remains an inspiring figure, and the reader cannot help being caught up in the hope that she will find peace at last.
And as the author of a series of novels featuring a haunted house in Santa Fe, I enjoyed every page of this book. I cannot help imagining Julia waltzing with my Captain Dusenberry in the third-floor ballroom of the Staab mansion (which is no longer there – it burned many years ago – but fortunately the rest of the house was saved). I am utterly delighted that we have secured La Posada as the headquarters for an event this fall – the Wisteria Tearoom Investigation – which will celebrate both Captain Dusenberry and Julia Staab.