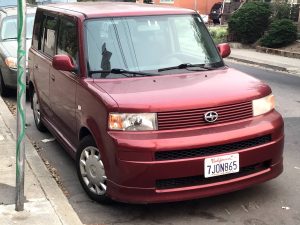 On March 13, I filled the car with gas because we were planning a trip to visit my sweetheart's mother for her 90th birthday. But the next day we both woke up feeling a little under the weather, so we decided we shouldn't go.
Four days later, the Bay Area set up a shelter-in-place to slow down the pandemic.
I haven't put gas in the car since. According to the gauge, there's about three-quarters of a tank available.
At a rough guess, I've driven the car about a hundred miles in the last six and a half months. To put that in perspective, I've walked about 850 miles in that same period.
Now it's not unusual for me to walk more than I drive when I'm not traveling. I live in a very walkable neighborhood. And I'm even driving to run some errands right now; when you buy two weeks worth of groceries at once or are picking up a farm box instead of browsing the booths at the farmer's market, a car is useful. Continue reading "Car, parked."…