Is it the last Friday of the month already?  Shit. It is.  The holiday season is in full stride, Hanukah in the rear view window, Christmas heading out the back door, and Kwanzaa upon us, and yep, there's New Year's Eve waving from the end of the driveway.
It's inevitable that in this Year of Covid, we've been looking toward, if not anxiously anticipating, New Year's Eve.  And, more specifically, New Year's Day.  Goodbye 2020, PLEASE let the door hit you on the way out, hello, 2021.
God knows, that's true for me:  2020 began, literally, with a call to tell me that my mother had died, and is ending as I recover from a concussion.  In-between…well, we know what happened in-between, worldwide and locally.  A few bright spots, a few not-inconsiderable wins, but overall… yeah.  And the veil of plausible deniability was pulled away from the arrogantly deadly stupidity of too many people, some of them people we respected, trusted, or loved. We're going to be cleaning up after this year for a long time.  So it's entirely reasonable and expected for people to start with the year-end chants of, "next year is gonna be better."
And I cringe, as I do ever time I hear it.  Not because I think we're jinxing ourselves, although, that, yeah.  But because if the past few years have taught us anything, it's that what's coming doesn't HAVE to be better. And it won't be, in and of itself. The universe bends toward the least amount of effort, and it takes effort for good things to happen (don't ask me Why, that leads to theological and thermodynamical questions I don't have the stamina for, because 2020).
But I do believe that we need to be optimistic.  First and foremost because if we don't have the belief that there is better coming, the urge to stay in bed and let other people deal with shit becomes overwhelming, until we're all in bed and nobody actually is dealing with shit (or, if they are, they're not the people you want left in charge of anything, see: 2020).  But secondly and just as importantly, because it's been my observation that sustained effort is driven by equal parts optimism and irritation, the kind of attitude that doesn't say "it will magically get better" but rather "fuck you, universe, I'm going to make it better."
This year – every year –  be punk-ass optimistic.  Be annoyingly punk-ass optimistic, because nothing annoys naysayers and doomfuckers like optimism.  But… maybe this year we don't shout it from the rooftops.  Keep it quiet in your breast, and warm in your hands, and hidden from Fate.  Or, as a caution appeared in my social media scroll this week: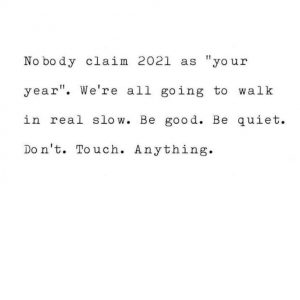 Everyone, hold hands (virtually, for now) and on the count of three, step forward.
Oh yeah – and Happy New Year!