I escaped my flat some days ago, with help from a friend. Of course I thought of a book, and today I took it from my shelf so that it can talk to me while I write. Let me give you a single picture from my trip across the border into rural NSW, and then I shall introduce you to one of my favourite books about this region. There are many books written by local writers. This region has produced writers from the moment anyone who knew the alphabet lived here. This particular volume is by Miles Franklin who, according to her Sydney writer friends, was one of the most generous people imaginable, and had enviable hair.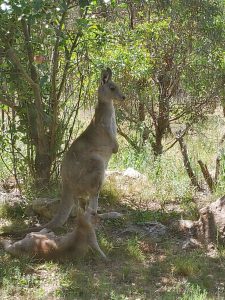 Canberra the city has mountains within it and mountains nearby. We're so high above sea level – I'm typing from just below 650m above sea level right now, and I live at one of the lowest points – that the mountains look like hills. Before this region was decided upon as the capital of Australia, it was a place where several peoples me (today we call it Ngunawal land because the Ngunnawal are the traditional owners of more of the ACT than the other groups, but the Australian Capital Territory is more complicated than that. Our borders don't follow the custodial boundaries. A map may help. (My favourite map is a Ngarigo map. It's an extraordinarily lucid map that makes everything very clear– but I can't find a copy of it online.) European settlement was mainly farms, with a church, a schoolhouse, and a couple of villages. Most of the people who lived on this land were, in fact, not European until this area became the national capital.
The Franklins were one of the local families in the nineteenth century. I have seen the old rose bushes from the Franklin property (they're now quite wild) and been stared down by kangaroos in a part of the national park that Franklin would have known as a farm. I've been atop Mt Franklin (named after Miles' family) and climbed (a little) of Mt Aggie (named after her aunt).
Miles Franklin, herself, lived in this region for the first ten years of her life. She was born in 1879, and the 54 years she lived elsewhere was mainly in cities.
Miles Franklin (actually Stella Maria Sarah Miles Franklin) was a fascinating person. My personal favourite of her noms de plume (for she had several) was Brent of Bin Bin. There's so much in her life that's not generally talked about: how she supported other writers, what she did with her life outside the most famous books. The edge has gone off the fame of the novels. Most people recognise the name because Franklin's name is on one of Australia's most important literary awards (we all dream of this award, but I'm the wrong kind of writer for it, so dreaming will have to suffice).
Neither My Brilliant Career (the famous novel that was turned into a movie) and My Career Goes Bung (its sequel) are on my desk right now, for Franklin used her post-childhood experiences to write them. The book on my desk is tiny, and full of colour. Childhood at Brindabella is my comfort-book and is not an autobiographical novel, but an actual autobiography. Franklin's childhood at Brindabella Station is at its heart. This book is where I discovered that we are low in lyrebirds in this region because of the US trappers in the nineteenth century, who wanted to feathers for hats. It's where I learned about how to transport sewing machines to places that still don't have sealed roads.
I could tell you favourite bits of it until the cows come home. It's under 160 pages long, however, so it's better to read it yourself. Then come to me and I will tell you how this region has changed and find you recipes from Miles' childhood. Despite all the changes, we still have more writers per capita than we ought. Miles Franklin will always be one of the best.